How to make a Korean Wholesale Beauty Order
---
BASIC METHOD
[Best for new businesses] 
We have written a full fool proof guide below on how to make a beauty order on our website. If you still have questions, feel free to check out FAQ page which answers a lot of frequently answered questions. 
Step 1 - Download our brochure

Step 2 - Click the pink CONTACT US link

Step 3 - Start your email with NEW ORDER and copy and paste the lines you are interested in into the email. 

Step 4 - Be sure to check your quantities match the box MOQ, in this example all lines needed to be increased by 2 units 

Step 5 - Once done, add up the final amount. 

Step 6 - Once again check the final amount against the brand MOA, In this example the order was still under the MOA and had to be increased by adding a new line. 
MAIN METHOD
 


[Best for established businesses] 

Using the Excel sheets
For the more established business looking for a much larger range of products and brands we recommend checking out our wholesale members area here. Download your brand of choice and follow the following steps; 
Open the excel sheet and open the RULES tab. Here will show the full rules for that particular brand including MOQ, Box Rules and Supply rate. For Tony Moly the rules are shown clearly below;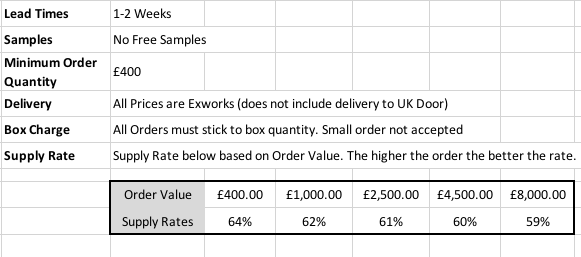 So we know to order Tony Moly our invoice value must be at least £400, we must stick to box quantities and the best supply rate we can get for £400 is 64%. For lower supply rates, order value must increase. 
Back to the Sheet fill in the name and postage address in the top left.  
Insert supply rate in supplying rate box (in this case it is 64%)
Go through sheet and insert your quantity in Order Quantity.
Ensure you order in multiples of the box quantity shown. 
In the below example you can see both the Essence Cover & the Cushion must be ordered in multiples of 6 (6,12,18 etc). An order of 10 would need to be changed to 6 or 12. 
Once finished entering your order, scroll to the top and check your order amount is above the MOQ. 
Now you are ready to send to us. Just drop us the form at

 

baifumei.co.uk@gmail.com

 

and our guys will get to work immediately. Expect your invoice back as quick as you sent it!